POTLUCK IDEAS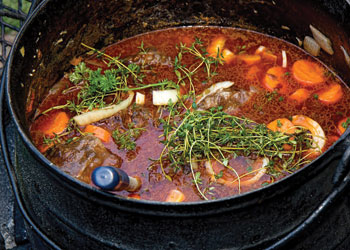 Potluck dinners generally end up having a certain element of randomness that makes it hard to plan around the menu. There's an old folk tale called "Stone Soup" where a wily and very hungry traveler tricks the stingy residents of a town into contributing small amounts of different ingredients to his pot of water. A bit of this for flavor, a bit of that for garnish, and voila! his simple stone, boiled in water, turns into a savory stew to feed the whole crowd.
While the luck-of-the-draw method can sometimes work well for potluck dinner parties, it can also end up with an unbalanced menu. The good news is that it's very easy to turn a mishmash of unrelated food dishes into a great dinner that will be fun for everyone, including the hosts!
Theme potlucks fall into two categories: parties with food that falls under a particular theme (such as those shown below), and themed pockluck events where the food is only one element of the overall event. With organization and planning, either style can be a relatively easy, cost effective, and end up with a fun event with friends.
Theme
Suggested Dishes

Pizza Night

"Make Your Own"

Store Bought Pizza Dough, Pita Rounds, or Pre-Made Pizza Shells
Guests bring various toppings
Individual pizzas can be cooked in the oven or on the grill.


Mexican Style

"Fiesta Night"

Tacos, Burritos, or Taco Salads
Hard taco shells, tortillas, flatbreads, or tortilla chips
Guests bring toppings and ingredients
Serve buffet style


Grilling Outdoors

"Kabob-bob-bobbing Along"

Grilled Vegetables, Meats, Fruits
Kabobs can be a tasty and fun alternative to the traditional burgers and dogs.
Have guests bring pre-cut (and/or pre-marinated) food for making kabobs
Steak, chicken, veggies, even fruit
Silverware optional!


Italian Night

"Life without
Lasagna"

Bruschetta, Antipasto, Pasta
Italian food doesn't have to be heavy to be good!
Have your friends bring various toppings and serve on bruschetta or pasta as a main course
Hot and cold antipasto items