PARTIAL CATERING AS AN ALTERNATIVE TO FULLY CATERED EVENTS
What is partial catering? Whereas fully catered events are planned, cooked, decorated and cooked by a caterer, partially catered parties use only some of those services. Partial catering can involve any combination of pre-prepared foods, home cooking and potluck.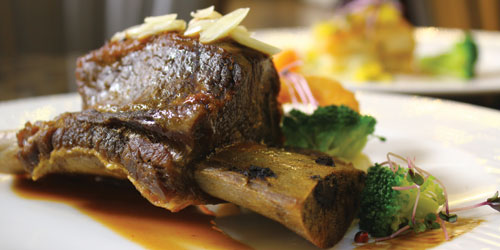 When planning any event, a great way to approach things is to start with an idea of what you want the end result to be, and plan backwards. Partial catering is a great way to save money, but it's also important to remember that those savings are going to be balanced out with extra work on your side.
While most caterers are open to the idea of providing only partial service, many also offer set partial catering options. When researching caterers, make sure to find out if your needs line up with what the catering company will provide.
Select a catering company for partial catering the same way you would if planning a fully catered event. Let them know up front that you're looking for partial service. But if you let your imagination fly when planning and talking to your caterer, you might just be amazed at the world of possibilities that open up when you decide to incorporate some but not all catered party food into your event.
There are many ways to handle using a caterer for an event: you can let them handle everything, from tables/linens, serving, and cocktails to desserts, or you can pick and choose their level of involvement. Sometimes you may just want them to provide the food and nothing more; sometimes you may want them to handle serving the main course only. Perhaps you want to make the majority of the food, but have a single, staffed station for a special entrée. Or you may want to just hire a personal chef rather than a service to handle all the cooking on site. The options are endless, and limited only by your imagination and the willingness of the caterer you choose.
Partial Catering Party Food Ideas:
Arrange for the caterer to provide food and rentals and set everything up, but not plate or serve. At the arranged time, the caterer will return to clean up. Voilà! No cooking or cleanup!
Have all the food cooked by the caterer and dropped off in disposable containers.
Have the catering company cook the entrées and set up a professionally decorated self-serve buffet.
Have a personal chef cook a specialty dish or entire dinner.
Arrange for a caterer to make the main entrée or entrées and staff a single buffet station. A perfect prime rib served professionally can make an elegant statement in any environment. Or what about fresh dim sum made to order by an expert?
Hire a specialty food-truck to come to your location and serve entrées a la carte.
Have a pig roast caterer drop off a cooker and a cook for perfect BBQ.
Have a mobile dessert truck (ice cream, crepes, cupcakes) show up in time for dessert.
There really is no end to the number of possibilities offered by partial catering. The only limitations are your imagination (and your budget)!