CATERING IDEAS
Fun and Creative Party Food Ideas for Events or Gatherings
Want to ensure that your party or event is a fun, entertaining one? Making sure the food tastes (and looks) wonderful is a great place to start! There's much more to throwing a great party than just coming up with great ideas, though. Successful events of any size take creativity, planning and work to bring those ideas to life!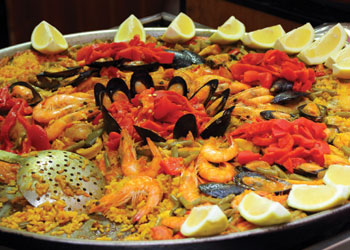 Part of what professional caterers do is creating fabulous meals that look and taste great, beautifully presented and decorated and served in a setting that complements them. But unless you're a professional event planner or caterer, pulling an entire party together can be daunting.
When you're planning an event, the best way to approach it is to start with the big picture, then narrow it down step by step, breaking tasks down until they're do-able, reasonable and contribute to the final effect. Sometimes this might mean handing everything but the visualization over to someone else (a caterer), sometimes it might mean doing every little piece yourself, and sometimes it might fall somewhere in the middle.
Party Food Ideas:
What about a professionally roasted pig at a backyard barbecue? There are many catering companies that specialize in pig roasts. Home cook the sides or have a potluck for the rest of the meal.
Have servers pass appetizers at a casual gathering to get it started with a special flair.
Hire a taco truck to provide the food for an outdoor party.
Plan a themed potluck around a good cause: have a "donate a sweater" party instead of an Ugly Sweater one, have everyone bring an extra ingredient to send to a food pantry, etc.
After a casual dinner, have a caterer set up a full ice-cream sundae bar station with a chocolate fountain.
Order a great ethnic entree from a restaurant and plan the rest of the meal around it. Whole roasted fish from a Polynesian restaurant, paella, rack of lamb...
Instead of having a potluck, have all the guests chip in and hire a personal chef to give a cooking lesson while making a gourmet dinner...
...or have a potluck and hire a pastry chef to make a stellar dessert for everyone.
Have a potluck cookout at a state park or beach, and arrange for a cupcake truck to stop by with dessert.
Throwing a wedding anniversary party? Decorate to match the original wedding reception and have a bakery decorate a cake to duplicate the invitation.
Creative party food ideas shouldn't be limited by your cooking ability! Combining the talents of a professional catering service with economical potlucks and home cooking can lead to a spectacular event that won't break the budget.