USING RESTAURANT CATERING SERVICES
Option 3: Using Pre-Made Restaurant Food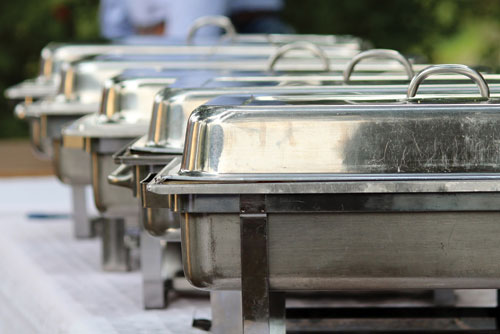 Catering from a restaurant is much more than just gettting "take out" — increasingly, restaurants are offering both full and partial catering services. When looking into using a favorite or a new restaurant to provide event food, it's best to start off by finding out the scope and content of their catering capabilities. Some will provide full caterer services only on their own premises. Some will deliver but not serve, and others will provide pre-cooked dishes for pick-up only. If using restaurant food for an event, find out what they can, or will, provide before you get too deep into the planning process.
Things to consider when using restaurant catering services:
Do you need full catering, partial catering, or food alone? Make sure the restaurant handles whatever option you've chosen.
Get a contact person:

Make sure you have all the contact information for someone at the restaurant who can handle all the order details.

If your event is on a weekend, make sure you have numbers for your contact as well as someone at the restaurant itself and, if necessary, the delivery driver.
Get it all in writing:
Have the restaurant draw up a contract of exactly what is to be provided, when, and what the cost will be.
Make sure there are no "hidden" costs. If they are delivering food, be sure to find out if there is an additional cost.
Find out how the food will be packaged:
Will the restaurant provide bulk containers that need reheating? Make sure you know if the pans are oven (or microwave) safe - and if they will fit into your devices.
If the dishes are going to be served buffet-style, find out if the delivery containers can be used for serving, or if you need to have separate platters.
Know their ingredients: Make sure you get a full ingredient list in case of guests with allergies.
RELATED ARTICLES: