CATERING ALTERNATIVES and OPTIONS
Not every event needs servers and multiple options for every course. Every event, however, should have great food, no matter who cooks it. Full-service catering is only one of many options available, and is frequently the most expensive. Choosing or combining various full service catering alternatives can help save money and still create an end result with mouth-watering party food that looks — and tastes — great.
Partial Catering means only using a caterer to provide part of the event food.
Pre-Cooked Food can come from a variety of different sources:

Restaurant Catering: ordering pre-cooked dishes or platters from a restaurant.
Pre-Made Food, such as party plates bought over the counter from stores or delis or special ordered.
Pre-Prepared Foods cooked at home in advance and re-heated.

Home cooking food for events can significantly reduce the expense of party food, but also requires a significant investment of time.
Potluck is an economical alternative where party attendees bring dishes to the event. While extremely cost-effective, this option needs careful planning in advance to be successful.
The beauty of utilizing alternatives to full service catering is that it is very easy to combine aspects of the many options to create fantastic events that match your vision for what you want your event to be!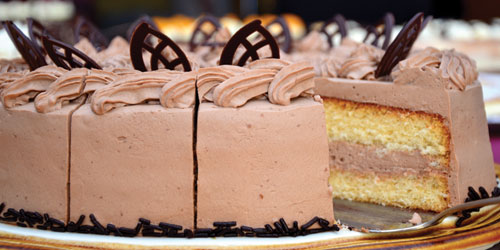 A Word About Desserts
One easy way to save money on smaller catered events is to take care of the desserts yourself. Bakeries and supermarket bakery sections have a variety of desserts available, and the pricing is generally much less expensive than using a caterer. With the exception of specialty cakes, it's generally not too difficult to handle dessert on your own.