PRE-MADE OR PRE-COOKED FOOD AS A CATERING ALTERNATIVE
Pre-made food can encompass anything from appetizers to entrees to side dishes to desserts. Whether it's a pre-made Italian Antipasto platter from your favorite restaurant, a ready-to-serve roast from the supermarket, or a dessert sampler from a great bakery, it's easy and generally economical to incorporate pre-cooked food into both your menu and your budget. Almost all pre-made party food falls into three categories: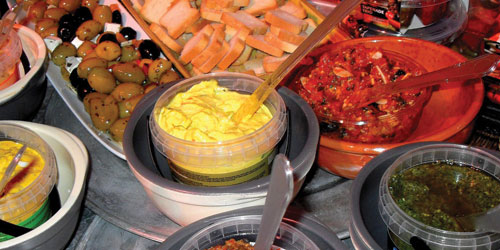 Pre-Made Food bought over the counter from stores or delis or ordered in advance from specialty markets.
Pre-Cooked Foods prepared at home in advance and finished or re-heated for the actual event.
Restaurant Catering: pre-cooked dishes or platters from a restaurant. These can be ready-to-eat or may require the cooking to be finished at the event.
Pre-made food can add a special touch to any event or party, and lends itself especially well to ethnic foods that you may not know how to cook or don't have the specialized equipment for. Don't know how to make delicious stuffed grape leaves for an appetizer? A local market or restaurant can solve that problem.
Option 1: Buying Pre-Made Food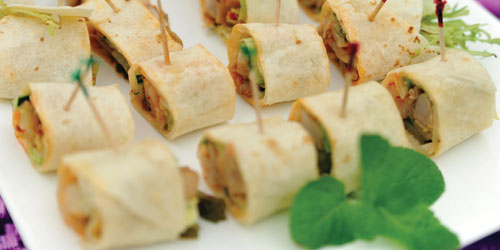 Party platters have come a long way from the days when the only option at the local deli was a big stack of soggy mini-subs. Almost all supermarkets, delis, specialty stores, and most restaurants now offer a wide variety of pre-cooked food for entertaining. In addition to off the shelf pre-made platters or ready-to-reheat foods, many places also offer custom cooking to order.
In general, buying pre-made food is less expensive than full or even partial catering, but there are several considerations to take into account.
What foods are best for buying pre-made?

Pre-made appetizer platters (fruit, cheese, salumi) are a great choice for saving prep time.
Dishes like rotisserie cooked meats that require special cooking.
Kids' table platters (chicken fingers, mini sliders) free up cooking time and space for grown up food.
Specialty items such as pre-made olive bar arrangements, sushi trays or raw bar seafoods.
Foods for special diets: low-salt, gluten-free, kosher, halal and vegan platters.
Desserts: specialty cakes, mixed dessert selections or cookie variety plates are often easier to purchase from a bakery than to make at home.

Does it make sense to buy pre-made? Think about what you'll be ordering in terms of time, effort and price. Ordering pre-made platters or dishes for parties can free up time for other cooking, decorations, cleaning and more.
What kind of serving dishes are required? When ordering party platters or pre-made food, ask about how the foods will be presented. Certain special foods such as kosher or halal cooking will often require special, or at least separate, dishes and utensils. Many places also offer the option of creating platters using your own serving dishes.
Does it need to be reheated? There's nothing worse than having a gorgeous pre-made platter that needs to be disassembled in order to reheat it for serving. Plan ahead so that once it's on the plate, it's table-ready.
NEXT: