CHOOSING THE RIGHT CATERER FOR YOUR EVENT FOOD
There are really only two ultimate goals when choosing a caterer or catering service to provide some or all event food: finding a catering service that you can work with, and ending up with the party food that you want.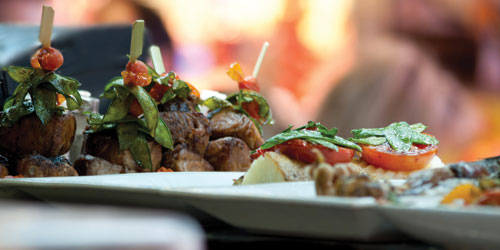 While there are many factors that go into choosing a caterer, in the end it comes down to finding someone you get along with who can make the food you want, serve it the way you want you want, and do it all at a price you can afford. The rest of the details are just that: details. They're important, but they will fall into place with good planning.
Step 1: Know Your Event Details
Knowing the scope of your event will make it easier when talking to potential caterers. Flying blind will lead to frustration and potentially wasting your (and the caterer's) time. These are the things to have a clear idea about before you even think about looking for a caterer:
Decide if you want full or partial catering services. This is actually a fairly big deal, since while most caterers are open to providing partial service, not all of them are. If you're considering partial service catering, the first question you ask any potential food caterer should be whether they provide that service or not. There's more to an event than food. Make sure you know who will be responsible for:

Cooking the food.
Serving dishes and utensils.
Plating the food.
Plates and utensils.
Setting up the space — tables, chairs, serving tables.
Decorating the space.
Alcohol and beverages.
Cleanup.

What is your event? Make sure you have a clear idea that you can communicate. "I'm having 10 people over for a casual party and poker night" is very, very different from "I'm having 20 people over for my daughter's Sweet 16 pool party" and a world away from "We're having a formal engagement party at a club for 30 people." The type of party (and location, but that's further down the list) can be a big factor in which catering service you choose.
How many (and who) will be attending? Brainstorm this before you think about the date, so you can keep people's availability in mind, and plan for if will be special food options (vegetarian/vegan, halal, gluten-free, food allergies and whether a separate children's menu will be needed).
When will the event be? Is it set or is there flexibility? There's a bit of wiggle room in the planning stage, but you'll need to set a firm date as soon as possible, preferably before selecting the final catering service.
Where will the event be held, and is there flexibility in the location choice? If your event is at a facility, make sure to check if outside caterers are allowable, or if they have a set list of vendors they work with.
Do you want a particular type of food? Knowing what you want will help you find a service that specializes, or is at least experienced in making the dishes you need.
How much do you want to spend on the event? This is the big one. Set your budget and stick to it. And (more on this below) make sure to know the scope of services and get everything in writing.
NEXT: